Spring is about to sprung, and with the change of season, our thoughts turn to Easter celebrations, spring cleaning and much-needed home improvement projects. Before you embark on seasonal chores or outdoor revelry, take inventory of potential springtime hazards for your furry friends. *If you suspect your pet may have come in contact with or ingested a potentially poisonous substance, contact your local veterinarian or the ASPCA Animal Poison Control Center immediately at (888) 426-4435.
Easter Treats and Decorations
Keep lilies and candy in check—chocolate goodies are toxic to cats and dogs, and all true lilies can be fatal if ingested by cats. And be mindful, kitties love to nibble on colorful plastic grass, which can lead to an obstructed digestive tract, severe vomiting and dehydration. Moreover, while live bunnies, chicks and other festive animals are adorable, resist the urge to buy them—these cute babies grow up fast and often require specialized care!
Screen Yourself
Many pet parents welcome the breezy days of spring by opening their windows. Unfortunately, they also unknowingly put their pets at risk—especially cats, who are apt to jump or fall through unscreened windows. Be sure to install snug and sturdy screens in all of your windows.
Buckle Up!
While most dogs love to feel the wind on their furry faces, allowing them to ride in the beds of pick-up trucks or stick their heads out of moving-car windows is dangerous. Flying debris and insects can cause inner ear or eye injuries and lung infections, and abrupt stops or turns can cause major injury, or worse! Pets riding in cars should always be secured in a crate or wearing a seatbelt harness designed especially for them.
Spring Cleaning
Spring cleaning is a time-honored tradition in many households, but be sure to keep all cleaners and chemicals out of your pets' way! Almost all cleaning products, even all natural ones, contain chemicals that may be harmful to pets. The key to using them safely is to read and follow label directions for proper use and storage. Please visit our Poisonous Household Products page for more information.
Home Improvement 101
Products such as paints, mineral spirits and solvents can be toxic to your pets and cause severe irritation or chemical burns. Carefully read all labels to see if the product is safe to use around your furry friends. Also, be cautious of physical hazards, including nails, staples, insulation, blades and power tools. It may be wise to confine your dog or cat to a designated pet-friendly room during home improvement projects.
Let Your Garden Grow—With Care
Pet parents, take care—fertilizers, insecticides and herbicides keep our plants and lawns healthy and green, but their ingredients may be dangerous if your pet ingests them. Always store these products in out-of-the-way places and follow label instructions carefully. Many popular springtime plants—including rhododendron and azaleas—are also highly toxic to pets and can prove fatal if eaten. Check out our full list—of toxic and non-toxic plants for your home and garden.
Ah-Ah-Achoo!
Like us, pets can be allergic to foods, dust, plants and pollens. Allergic reactions in dogs and cats can cause itching, minor sniffling and sneezing, or life-threatening anaphylactic shock to insect bites and stings. If you suspect your pet has a springtime allergy, please visit your veterinarian as soon as possible.
Pesky Little Critters
April showers bring May flowers—and an onslaught of bugs! Make sure your pet is on year-round heartworm preventive medication, as well as a flea and tick control program. Ask your doctor to recommend a plan designed specifically for your pet. Please visit our Fleas and Ticks page for more information.
Out and About
Warmer weather means more trips to the park, longer walks and more chances for your pet to wander off! Make sure your dog or cat has a microchip for identification and wears a tag imprinted with your home address, cell phone and any other relevant contact information.
Source: ASPAC
Keep your pet safe for the summer
Heat Hazards
If your dog is outside on a hot day, make sure he has a shady spot to rest in. Doghouses are not good shelter during the summer as they can trap heat. You may want to fill a child's wading pool with fresh water for your dog to cool off in. Never leave your dog in a closed vehicle on a hot day. The temperature inside a car can rise to over 100 degrees in a matter of minutes. Always provide plenty of cool, fresh water. Avoid strenuous exercise on extremely hot days. Take walks in the early mornings or evenings, when the sun's heat is less intense. Try to avoid prolonged exposure to hot asphalt or sand, which can burn your dog's paws. Dogs that are brachycephalic (short-faced), such as Bulldogs, Boxers, Japanese Chins, and Pekingese, have an especially hard time in the heat because they do not pant as efficiently as longer-faced dogs. Keep your brachy- cephalic dog inside with air-conditioning.
General Health
Make sure your dog's vaccinations are up to date, especially since dogs tend to stay outdoors longer and come into contact with other animals more during the summer months. Keep dogs off of lawns that have been chemically treated or fertilized for 24 hours (or according to package instructions), and away from potentially toxic plants and flowers.
Keep your well-brushed and clean.
Fleas and ticks, and the mosquitos which carry heartworm disease, are more prevalent in warmer months. Ask your veterinarian for an effective preventive to keep these parasites off your dog.
Beach tips
Make sure your dog has a shady spot to rest in and plenty of fresh water.
Dogs, especially those with short hair, white fur, and pink skin, can sunburn. Limit your dog's exposure during the day and apply sunblock to his ears and nose 30 minutes before going outside.
Check with a lifeguard for daily water conditions. Dogs are easy targets for sea lice and jellyfish.
Running on the sand is strenuous exercise. A dog that is out of shape can easily pull a tendon or ligament, so keep a check on your dog's activity.
Do not let your dog drink seawater; the salt will make him sick.
Salt and other minerals in ocean water can damage your dog's coat, so rinse him off at the end of the day.
Not all beaches permit dogs; check local ordinances before heading out.
Water safety
Most dogs enjoy swimming, but some cannot swim, and others may hate the water. Be conscious of your dog's preferences and skills before trying to make him swim.
If you're swimming for the first time with your dog, start in shallow water and coax him in by calling his name. Encourage him with toys or treats. Or, let him follow another experienced dog he is friendly with.
Never throw your dog into the water.
If your dog begins to paddle with his front legs, lift his hind legs and help him float. He should quickly catch on and keep his back end up.
Don't let your dog overdo it; swimming is very hard work and he may tire quickly.
If swimming at the ocean, be careful of strong tides.
If you have your own pool, make sure your dog knows where the stairs or ladder are located. Be sure that pool covers are firmly in place; dogs have been known to slip in under openings in the covers and drown.Never leave your dog unattended in water.
Travel by Air
Many airlines will not ship animals during summer months due to dangers caused by hot weather. Some will only allow dogs to fly in the early morning or in the evening. Check with your airlines for specific rules. If you do ship a dog, put icepacks or an ice blanket in the dog's crate. (Two-liter soft drink bottles filled with water and frozen work well.) Provide a container of fresh water, as well as a container of frozen water that will thaw over the course of the trip.
Travel by Car
Keep your dog cool in the car by putting icepacks in his crate. Make sure the crate is well ventilated.
Put a sunshade on your car windows.
Bring along fresh water and a bowl, and a tarp or tent so you can set up a shady spot when you stop. Keep a spray bottle filled with water to spritz on your dog to cool him down.
Travel by RV
A dog's safety should not depend on the air conditioning and generator systems in an RV or motor home. These devices can malfunction, with tragic results.
If you leave your dog in an RV with the generator running, check it often or have a neighbor monitor it. Some manufacturers have devices that will notify you if the generator should malfunction.
Never leave an RV or motor home completely shut up, even if the generator and AC are running. Crack a window or door or run the exhaust fan.
Never, ever leave a dog unattended in a vehicle in the summer months. Heatstroke and death can occur within minutes in warm temperatures.
Heat Stroke
Heatstroke can be the serious and often fatal result of a dog's prolonged exposure to excessive heat. Below are the signs of heatstroke and the actions you should take if your dog is overcome.
Early Stages:
• Heavy panting.
• Rapid breathing.
• Excessive drooling.
• Bright red gums and tongue.
• Standing 4-square, posting or
spreading out in an attempt to
maintain balance.
Advanced Stages:
• White or blue gums.
• Lethargy, unwillingness to move.
• Uncontrollable urination or
defecation.
• Labored, noisy breathing.
• Shock.
If your dog begins to exhibit signs of heatstroke, you should immediately try to cool the dog down:
• Apply rubbing alcohol to the dog's
paw pads.
• Apply ice packs to the groin area.
• Hose down with water.
• Allow the dog to lick ice chips or
drink a small amount of water.
• Offer Pedialyte to restore
electrolytes.
Check your dog's temperature regularly during this process. Once the dog's temperature has stabilized at between 100 to 102 degrees, you can stop the cool-down process.
If you cannot get the dog cooled down and you begin to see signs of advanced heatstroke, take the dog to the veterinarian immediately.
Follow our tips to keep cats and dogs safe and comfortable
In many areas, winter is a season of bitter cold and numbing wetness. Make sure your four-footed family members stay safe and warm by following these simple guidelines:
Keep pets indoors 
The best prescription for winter's woes is to keep your dog or cat inside with you and your family. The happiest dogs are taken out frequently for walks and exercise but kept inside the rest of the time.Don't leave pets outdoors when the temperature drops. During walks, short-haired dogs may feel more comfortable wearing a sweater. No matter what the temperature is, windchill can threaten a pet's life. Pets are sensitive to severe cold and are at risk for frostbite and hypothermia during extreme cold snaps. Exposed skin on noses, ears and paw pads can quickly freeze and suffer permanent damage.
Take precautions if your pet spends a lot of time outside
A dog or cat is happiest and healthiest when kept indoors. If for some reason your dog is outdoors much of the day, he or she must be protected by a dry, draft-free shelter that is large enough to allow the dog to sit and lie down comfortably but small enough to hold in his/her body heat. The floor should be raised a few inches off the ground and covered with cedar shavings or straw. The doorway should be covered with waterproof burlap or heavy plastic.
Help neighborhood outdoor cats
If there are outdoor cats, either owned pets or community cats (ferals, who are scared of people, and strays, who are lost or abandoned pets) in your area, remember that they need protection from the elements as well as food and water.
Give your pets plenty of food and water
Pets who spend a lot of time outdoors need more food in the winter because keeping warm depletes energy. Routinely check your pet's water dish to make certain the water is fresh and unfrozen. Use plastic food and water bowls; when the temperature is low, your pet's tongue can stick and freeze to metal.
Be careful with cats, wildlife and cars
Warm engines in parked cars attract cats and small wildlife, who may crawl up under the hood. To avoid injuring any hidden animals, bang on your car's hood to scare them away before starting your engine.
Protect paws from salt
The salt and other chemicals used to melt snow and ice can irritate the pads of your pet's feet. Wipe all paws with a damp towel before your pet licks them and irritates his/her mouth.
Avoid antifreeze poisoning
Antifreeze is a deadly poison, but it has a sweet taste that may attract animals and children. Wipe up spills and keep antifreeze (and all household chemicals) out of reach. Coolants and antifreeze made with propylene glycol are less toxic to pets, wildlife and family.
Speak out if you see a pet left in the cold
If you encounter a pet left in the cold, politely let the owner know you're concerned. If they don't respond well, document what you see: the date, time, exact location and type of animal, plus as many details as possible. Video and photographic documentation (even a cell phone photo) will help bolster your case. Then contact your local animal control agency or county sheriff's office and present your evidence. Take detailed notes regarding whom you speak with and when. Respectfully follow up in a few days if the situation has not been remedied.
Reprinted from:

Autumn Is Tick, Tick, Ticking Closer
Fall is on the horizon and dog owners who live anywhere but in the middle of the concrete jungle are probably concerned they might have a dog tick problem. Ticks—deer ticks, dog ticks, and other varieties—can spread disease to both you and your pet. But what are the other animal health concerns you need to worry about in the fall? Here are some important things to consider when thinking about fall pet safety:
• Ticks: Although tick nymphs peak in the spring months, the number of adult deer ticks is higher in the fall than it is during any other part of the year. Deer ticks are the ticks that are responsible for spreading Lyme disease—which can be just as much of a danger for you as it is for your pet. If you're worried you might have a tick problem, there are several things you can do to help. A tick and flea preventative will help keep the bugs away, but if you don't choose to use them, consider paying more attention to your lawn care. Ticks prefer to live in long grass, so giving your lawn a good manicure, and keeping your pets confined, can help keep your tick problem under control.
• Temperature: Fall is a tough time for pet care because the temperature is so variable. Depending on where you live, you may need to worry about anything from heatstroke to frostbite. In particular, you'll always want to make certain that your dog or cat has enough water. Just because the weather has gotten cooler doesn't mean that your pet doesn't still need a lot to drink.
• Halloween: Halloween time can be fun time for both you and your pets, but you'll also want to plan ahead and take some safety precautions. Chocolate, which is found so plentifully at Halloween, can be extremely toxic for both your dogs and your cats. Also, candies containing xylitol are among the harmful foods you should keep away from your pet. Pet Halloween costumes can be cute, but you'll want to be certain that they don't have small parts which pose a choking hazard or impair your pets' breathing or hearing. If you have a black cat, plan to keep it indoors around Halloween time. People have been known to play some nasty tricks on "witch's cats" around the holiday, and you'll want to keep your kitty safe.
• Grooming: Finally, fall is a good time to remember that keeping your pet's coat in good shape isn't just a matter of vanity; it's also a matter of health. Some good dog grooming tips include regularly brushing your pet to avoid matting and always making certain your pet is completely dry after a bath. These and other tips can help your pet avoid "hot spots" and other skin irritations that can contribute to poor health.
• Watch for coolant and anti-freeze toxicity. Like coolant, antifreeze is a lethal poison for dogs and cats. Be sure to thoroughly clean up any spills from your vehicle, and consider using products that contain propylene glycol rather than ethylene glycol.
• Quick Tip: If you have a long-haired dog or cat, it's important to brush them regularly to avoid serious matting, which can cause your furry friend real discomfort and negatively affect their health. If you cannot commit to regular coat care, then talk to your veterinarian or groomer about whether or not it might be a good idea to keep Fluffy shaved. He won't be fluffy anymore but it could improve both his temperament and his well-being.
Protect Your Pet from Cold Weather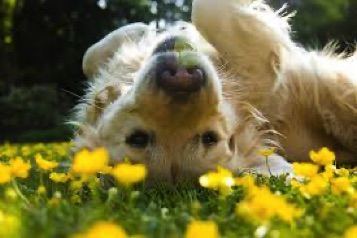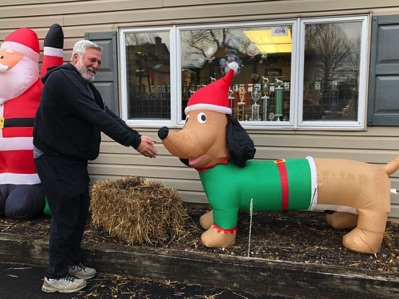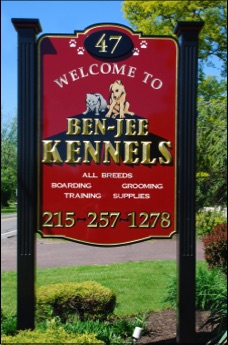 NEW Hours:
Monday - Friday 8 am to 4:30 pm
Saturday 8 am to 3 pm
"Pick-ups" on Sunday prearranged
by appointment only
Supervision: 24/7, 365 days a year
Fax: 215-257-3322
email: hallmark15@aol.com
47 Ridge Road, PO Box 1
Tylersport, PA 18971